Freitag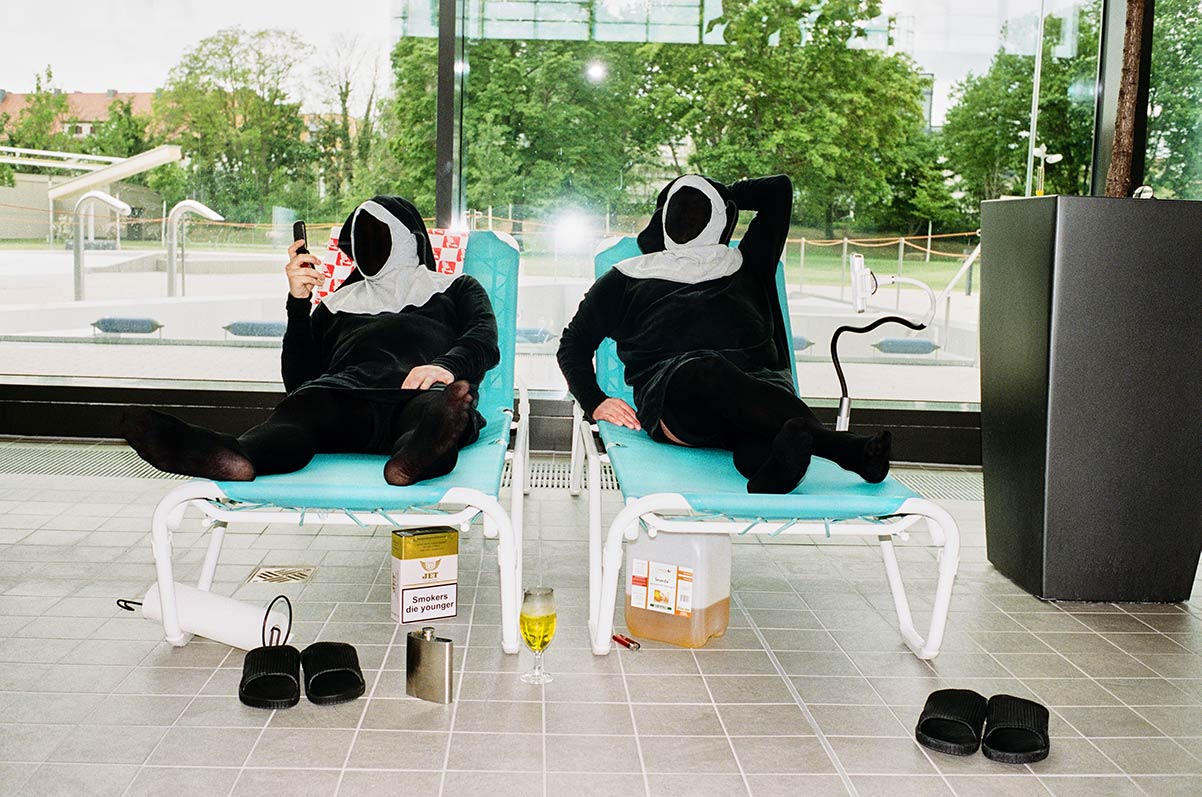 HILDEGARD VON BINGE DRINKING sind eine dieser Bands, denen man dankbar sein muss, dass sie existieren. Existieren und Durchhalten, sie und wir, dafür bedarf es eines Soundtracks. Ein Soundtrack, der zugleich die Dimension öffnet, in der alles egal sein kann, darf, muss.
Aber der ebenso die Sinne schärft für den Bullshit im Hier und Jetzt, der sich nicht ergibt in Oberflächlichkeit, Eskapismus und Pose, sondern sich im Dreck und Schweiß suhlt, ohne einen Fick darauf zu geben, was gut aussieht und was schmeckt.
HVBD merkt man jene gewisse Verbundenheit an, nicht nur im technischen Mucker-Sinne, denn "tight" waren sie schon immer, nicht nur ihre Habite. Die vier Songs auf "Sprechfunk mit Toten" bündeln die organische Energie aus quasi hunderten Liveshows über unzählige
Jahre, endlosen Sessions in muffigen Räumen, Zusammenhocken in Pilshallen, und Meditation unter krautbewachsenen Noise-Cancelling-Kopfhörerungetümen. Kraut sei nur ein läppisch dahingeworfener Referenz-Handschuh, HVBD sind so viel mehr, und so viel weiter auf der Timeline von introvertierter DIY-Kultur.
///
HILDEGARD VON BINGE DRINKING are one of those bands that you have to be grateful for existing. Existence and perseverance, they and we, need a soundtrack for that. A soundtrack that at the same time opens up the dimension in which everything can, may, must not matter.
But it also sharpens the senses for the bullshit in the here and now, which does not surrender to superficiality, escapism and pose, but wallows in dirt and sweat without giving a damn about what looks good and what tastes good.
HVBD have a certain bond, not only in the technical sense, because they have always been "tight", not only their habits. The four songs on "Sprechfunk mit Toten" bundle the organic energy from hundreds of live shows over countless years, endless sessions in moshpits, and a lot more.
endless sessions in musty rooms, huddling together in mushroom halls, and meditation under herb-covered noise-cancelling headphone monstrosities. Let herb be just a lappishly thrown reference glove, HVBD are so much more, and so much further along the timeline of introverted DIY culture.