Sonntag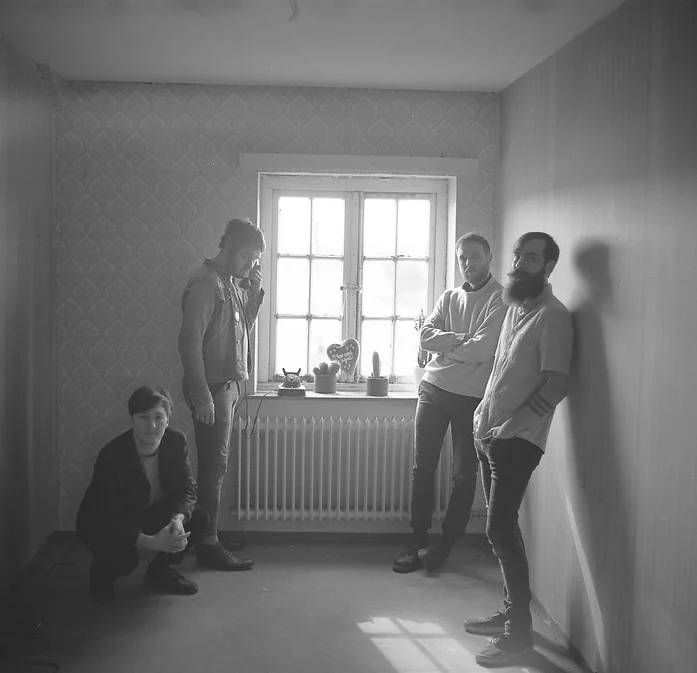 fluppe – bitte klein schreiben, das sieht einfach besser aus und soll auch so – stammen aus Hamburg und sind Josef Endicott, Antoine Laval, Lars Brunkhorst und Christian Klindworth. Erste Augenzeug:innen ihrer Konzerte vergleichen fluppe gerne mit Turbostaat, was grob in die Richtung geht, aber musikalisch kommen einem eher diese räudig-poetischen Post-Punk-Bands wie DO NOTHING, SHAME, PROTOMARTYR oder auch IDLES in den Sinn.
Erste Kritiken zur ihrer EP "Billstedt" aus dem vergangenen Jahr erkannten darin die gute alte "Hamburger Schule". Aber dazu sagt Christian: "Das ist natürlich schmeichelhaft, die war ja auch wichtig. Aber ich kenn mich da einfach nicht gut genug aus, um das als Einfluss zu sehen. Ich kann jetzt keine fünf Songs von DIE REGIERUNG aufzählen und bin kein BLUMFELD-Experte. Für mich waren … BUT ALIVE, die BOXHAMSTERS oder TURBOSTAAT wichtiger." Vor allem lyrisch führt das schon in die richtige Richtung, wenn man vielleicht noch etwas mit DACKELBLUT nachwürzt.
///
fluppe – please write it in small letters, it just looks better and should – are from Hamburg and are Josef Endicott, Antoine Laval, Lars Brunkhorst and Christian Klindworth. First eyewitnesses of their concerts like to compare fluppe with Turbostaat, which is roughly in the same direction, but musically it's rather those mangy-poetic post-punk bands like DO NOTHING, SHAME, PROTOMARTYR or IDLES that come to mind.
The first reviews of their EP "Billstedt" from last year recognised the good old "Hamburg school" in it. But Christian says: "That's flattering of course, it was also important. But I just don't know it well enough to see it as an influence. I can't list five songs by DIE REGIERUNG and I'm no BLUMFELD expert. For me … BUT ALIVE, the BOXHAMSTERS or TURBOSTAAT were more important." Especially lyrically, this is already leading in the right direction, if you maybe spice it up a bit with DACKELBLUT.